r The 2.4-inch LCD Business Card
What Are The Technical Aspects of the LCD Business Card?
The LCD business card has a 2.4″ LCD TFT lens with a resolution of 320×272 pixels. The screen ratio is 4:3, which means your video should be shot or edited to the same aspect ratio to get the best results.
The print area is 90x60mm when measured flat and a thickness of 8mm. There is room for one play/pause toggle button on the surface area. 
Things Consider When Considering The Digital Business Card?
The vast majority of video footage is shot using an aspect ratio of 16:9. If we try and install this to the device, you are in effect trying to squeeze an oblong into a square, and the results are that a black bar will display at the top and bottom of the screen. Because the LCD business card's screen is only 2.4-inches across the diagonal plane, this makes a small screen even smaller! So, for best results, make sure your video is edited to, or shot, in a 4:3 aspect ratio.
As with all video brochures, the video content of the LCD business card can be removed and replaced; however, because of the unusual aspect ratio, it needs to be run through a converting process using a piece of freeware, available here to download. If you are already a customer and are having problems converting your file, we will do this for you as part of our customer support guarantee. All you have to do is upload your artwork file to our free WeTransfer account, and within 24 hours, we will have to file back to you, ready to install, using the USB cable provided.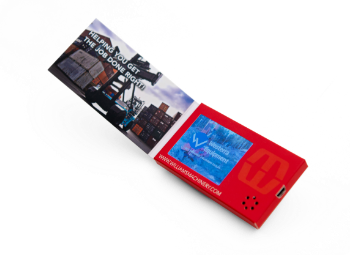 How Do Curveball Client's Use The LCD Screen Business Card?
The 2.4″ business card is one of our best selling video brochures. It has been used for both consumer marketing in the promotions sector and as a business presentation in the B2B arena, delivering a perfect elevator pitch – every time.
Selling to large organizations can be a complicated process with a large number of decision-makers and stakeholders holders in the approval process. Having your sales personnel initiate 1-2-1 presentations with each influencer in the buying cycle is unrealistic, and relying on an internal advocate to accurately position your business and solution, unreliable; this is when the LCD business card can come into its own.
What Are The Benefits?
The 2.4- inch  LCD business card is small, compact. It plays instantly upon opening, meaning the recipient has a compelling elevator pitch, which they can use for reference and show their co-workers when questions arise regarding your product or service offering.
Traditional brochures are not conducive to modern office environments or the increase in home working. The standard office library – filing cabinets and hard copy workflows are increasingly a thing of the past in a modern cloud-based storage environment. Therefore, something small, neat, compact, and fully automatic, without the need for any installation, set-up, or connection is a unique opportunity.
How Do It Get This Ordered, What Is The Process?
The LCD business card is our lowest priced video brochure, and quantity splits across a variety of currencies can be viewed here. 
Once you have chosen your price point, the design process is the same as for any other Curveball video brochure. A step-by-step process is detailed here, and design guidelines can be downloaded here, or from any product page footer.
If you would like to receive a sample of the LCD video brochure, you can order one free of charge here, alternatively, speak to one of our account personnel, schedule a call, or email us. 
We are looking forward to hearing from you.